Heating and Air Conditioning
A house without a heating and air conditioning system wouldn't be worth much. Maintaining the system in your home ensures that your house will be comfortable and when running efficiently, can help save money as well.
This section of tips can help you make the most of the heating and air conditioning system in your home. You'll find tips to help you clean your air ducts, prevent mold growth, replace a thermostat. There is also information about heating a cold room, installing ductwork, and replacing a water heater.
Tips, Tricks, and Answers
The following articles are available for the 'Heating and Air Conditioning' topic. Click the article''s title (shown in bold) to see the associated article.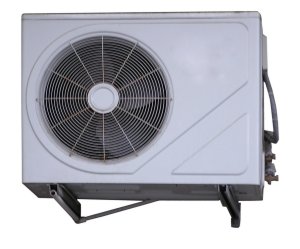 Adding Air Conditioning
For a home, apartment, or even office without any air conditioning, come summertime you hate life. Adding air conditioning to an area can be as big or as small of an operation as you want it to be. Here's why.
Checking for and Eliminating Drafts
An easy way to check to see where a draft is coming from is to stand with a lighted candle next to a window or door. The flame will flicker where the draft is, and you'll most likely find a crack to seal. Follow these other handy tips for discovering and eliminating drafts in your home.
Choosing Efficient Air Filters
Choosing efficient air filters is one of the most important processes that a homeowner can do to ensure that their HVAC system is working properly. While it may seem a little difficult at first, the truth is that it is not. Best of all, this is a task that any homeowner can do, no matter their home improvement proficiency.
Cleaning Blackened Air Vents
When cleaning blackened air vents, it's nice to think that all you need to do is do a little dusting and your finished. Unfortunately finding your air vents blackened is often a sign of a worse problem. Cleaning blackened air vents is still possible, as long as you know what to do.
Cleaning Your Air Ducts
Although you can call a professional to clean your air ducts, be prepared to pay a hefty price for a chore that you can easily perform on your own. If, however, you detect mold growth, it is wise to call a professional for an assessment.
Cooling Down a Hot Room
Contrary to what many people believe, cooling down a hot room does not solely rely on your air conditioner. Here are a few easy and surprising ideas for you to use the next time you start to bake in the summer heat.
Covering Exposed Ductwork
One of the problems with having central air is that you have to ensure the duct work is covered. When this doesn't happen, the basement of your home can quickly look as if it is an industrial complex. Covering exposed ductwork, though physically strenuous, is something that anyone can do with the proper preparation.
Evaluating Home Energy Efficiency
For many homeowners, their energy bills are typically the costliest of their ongoing monthly expenses. The first step to reducing this bill is to find out how energy efficient your home is. Evaluating home energy efficiency is the key to understanding where the problems lie in your home.
Heating Up a Cold Room
While it is tempting to do so, there are other ways of heating up a cold room besides turning up the thermostat. Try a few of these options, and save some money at the same time.
Installing a Window Air Conditioner
In the heat of the summer, perhaps the single greatest help is a working air conditioner. If you don't already have one, then installing a window air conditioner can be a great weekend project. It's not that hard, as long as you are careful.
Installing an Evaporative Cooler
One of the best ways to cool your home during the hotter months is by using an evaporative cooler. If you don't already have one, installing an evaporative cooler (also known as a swamp cooler) is remarkably easy. Follow these instructions, grab a friend, and get to work!
Installing Auxiliary Gas Heaters
No one really likes the excessive cold of the winter months, at least they don't like living in it all the time. One way that you can help prevent this from happening is by installing auxiliary gas heaters in your home. The basics steps aren't that difficult, particularly if you follow this step by step method.
Installing Ductwork
One of the keys for lowering your home heating and cooling bills is having the proper ductwork in place. If you don't currently have any, then it is time to install some. Installing ductwork, while challenging, is something that you can do. All you really need is a little patience, the proper materials, and some guidance.
Installing Radiant Floor Heating
Do your floors have a tendency to get cold? No one really enjoys waking up to a cold floor, and this can happen at any time during the year. One solution for dealing with this problem is by installing radiant floor heating. It's not as hard of a project as you may have once believed, and the results are simply fantastic.
Installing Roof Vents
The best way to get the most out of your roofing insulation is to actually provide proper circulation for the air. Without this proper air circulation, even the best insulation job will rot over time. Prevent this by installing roof vents in your roof. It is a remarkably easy that will only take about two hours to complete.
Installing Soffits
Soffits are a helpful feature of home architecture that you can use to help lower your heating and cooling costs. But what do you do if your home doesn't have any soffits already installed? The answer is rather simple: install your own.
Insulating an Attic
No matter the type of weather that you may be faced with, if you don't have the proper insulation in your attic you can easily find that your heating and energy bills going sky high. Insulating your attic correctly is one of the best possible ways to ensure your home is as energy efficient as possible.
Insulating Basements
Considering that many homes have their heating and air conditioning units in the basement, it only makes sense that these parts of the homes be insulated as well. Insulating basements will help reduce your overall heating and cooling bill, while also making sure that your basement is actually finished. Better yet, you should be able to get this all done in a single weekend.
Maintaining a Central Air System
During the hot summer months, a working central air system can literally be a lifesaver. That is why proper maintenance of a central air system is so important. Without proper maintenance, a central air system will quickly stop working and stop being of use to anyone. Simply follow these simple steps, and you can begin doing some simple maintenance on your air conditioner.
Maintaining an Oil Furnace
Many people forget about maintaining their furnaces until it is too late. The best time to get your maintenance done is when you don't think you will need it, primarily when the weather is still warm. Here are some simple guidelines that you can use when maintaining an oil furnace.
Naturally Cool Your Home
Are you tired of having a hot home and high energy bills during the summer months? Learning how to naturally cool your home is a great way to eliminate these problems. All you need to do is keep these guidelines in mind.
Preparing Your Swamp Cooler for Cold Weather
If you take the necessary time to prepare your swamp cooler for cold weather, it will be ready for your use in the hot months ahead. A few hours invested in the fall will save you time, energy, and money in the spring. Follow these steps for preparing your swamp cooler for winter.
Preventing Mold Growth
One of the greatest problems currently facing home owners is mold growth. Without taking proper care, mold growth can quickly create a serious health problem. Actually making your home uninhabitable. Preventing mold growth is an easy task though, if you know what to do.
Replacing a Furnace Filter
Whether your furnace is electric or gas, down flow, up flow or horizontal, your furnace uses a filter. Designed to trap dust and air particles from damaging the motor, air filters can also improve airflow and air quality. Replacing a furnace filter is simple, once you locate it.
Replacing a Thermostat
Although replacing a thermostat is a relatively simple task, it can be quite dangerous since you're dealing with electricity. Always turn the power supply of your heating and air conditioning system off before attempting to replace your thermostat, and follow the manufacturer's directions that come with the new thermostat.
Replacing an Electric Water Heater
Once you've ruled out the possibility of repairing your heater, and you realize that it's time to replace it, look for an electric water heater with an Energy Star rating. Not only will you save money on your electric bill, you will help the environment by choosing an energy-saving model.
Troubleshooting Your Home Heating System
When the weather begins to turn cold, it is a good idea to get your home ready. One of the easiest things that you can do to prepare your home for the coming cold season is troubleshooting your home heating system. Here's what you need to do.