Decorating
A house is just a house without decorating. The home decor you choose is a reflection of your and your family. In addition, the way your furniture is arranged can influence the mood in your home and promote conversation between people in the home.
The tips in this section can help you make the most of the space in your home. You'll find information about arranging furniture, choosing the right paint and color, and using aromatherapy effectively.
Tips, Tricks, and Answers
The following articles are available for the 'Decorating' topic. Click the article''s title (shown in bold) to see the associated article.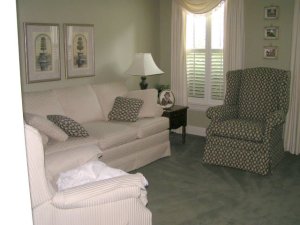 Arranging a Room for Comfort
Are you having trouble getting comfortable in your own home? Perhaps the reason for this is that your home simply isn't comfortable. Try arranging a room for comfort and find out exactly what you have been missing.
Bamboo Window Treatments
Just as bamboo can accentuate the windows inside of your home, bamboo window treatments outside are just as stylish. Consider hanging bamboo shades at your screened-in deck or patio, since bamboo can withstand high temperatures, sun, and the elements, while providing shade on sunny days.
Bedroom Accessories
Decorating a bedroom can be fun, but it's not always simple to choose what items to place in the area. Use accessories that will help bring out the theme and feel of the room.
Bedroom Furnishings
What style do you want to use for decorating the bedroom? Bedroom furnishings can help you create the perfect look and feel for your room.
Brightening Basements
If your basement is portioned into rooms, consider placing a windowpane between two rooms to allow natural and artificial light to travel between the rooms. Not only is it a great way to encourage lighting, it is a great focal piece for your basement decor.
Brightening Basements on a Budget
For the most part basements are inherently dark and somewhat dingy places. While an extensive renovation can be expensive, there are a few things that you can do to begin brightening basements on a budget. It's not particularly difficult, at least if you keep these guidelines in mind.
Bringing the Outdoors In When Decorating
No, I am not talking about that weird inside-out night club from "A Night at the Roxbury." What I am talking about is using the natural world to help bring out the best in your home. Here are some tips and guidelines on doing just that.
Changing a Room's Focal Point
Knowing the proper way of changing a room's focal point is a good skill to have for any homeowner. After all, everyone likes to have a new home decorating focus every so often. Luckily, it's not all that difficult a task to do since you only really need to keep a few guidelines in mind.
Children's Bedroom
A child's bedroom can be a magical place where he or she can play and feel comfortable and happy. Let your child help decide on decorating ideas, and put the pieces of the room together to create the right look.
Choosing Between Oil- and Water-based Stains
Oil and water based stains both protect the quality of your wood. Making an informed decision on which wood stain to use can help you maintain your wood.
Choosing Ceiling Fixtures
There is a wide range of ceiling fixtures that you can use to provide light for a room. Make sure that you understand all of your options before making any final decisions. After all, light fixtures can affect the overall look of your room as much as any furniture or decorations that you may use.
Choosing the Best Colors for the Interior of Your Home
Choosing the colors for your home can be a very intimidating experience. Following some basic guidelines about color can make painting your home much easier.
Choosing the Perfect Color Scheme
When decorating a room, perhaps the single most important and difficult step is to come up with the color that you will be using. Choosing the perfect color scheme for your needs doesn't need to be as difficult as many people make it. In fact, it can actually be quite easy.
Contemporary Bedroom Furniture
If you are searching for new bedroom furniture, consider a modern look. Contemporary furniture adds a classy look to your room.
Converting Table-Top Frames
Turn your favorite table-top picture frame to a wall-hanging picture frame. It's easy to do with no real effort. Learn how with these simple and easy instructions.
Cottage Style Home Decorating
If you are looking for a taste of the country, but don't want to appear too rural, then cottage style home decorating is perfect for you. The feelings of the garden that such a comfortable style evokes is an ever increasing favorite, and something that anyone can do.
Country Cottages
Country cottages evoke a feeling of comfort and warmth, something along the lines of visiting a favored grandmother's home. In fact, it is due to this feeling that many people are starting to like this style of interior decorating more and more. If you have ever wondered how you can get that feeling yourself, then use these guidelines to help.
Country Home Decorating
Country home decorating is not necessarily about country music (though many people are inspired by it). Instead to many people, country home decorating is about feeling like they are in a more secure time. The guidelines for decorating in this style are pretty easy to follow, and here they are.
Creating a Kid Approved Room
If you have a child, then chances are you know just how much fun it can be to try decorating their room. Creating a kid-approved room has never really seemed to be an achievable dream, at least until now. Here is your opportunity to learn how easy creating a kid-approved room really is.
Creating a Perfect Bedroom
Everyone wants to create a perfect bedroom. The bedroom is arguably the single most personal room in the entire home. It is where we go to for a rest from the world, have a little personal time, or even have a night in with someone special, so why not make it memorable? Here's how.
Creating Cafe Curtains
The window treatments you use in your home can impact the overall look of a room. Café curtains offer a stylish, fun look that allows more natural light to enter your home.
Creating Infused Oils at Home
Infused oils are just one aspect of the alternative medicine practice called Aromatherapy. Derived from plants, infused oils can help alter your mood or health. Clinical studies and scientific research suggest that the use of infused oils can increase energy, reduce pain and stress, and create relaxation and provide more restful sleep patterns.
Creating Stylish Walls
If you are having trouble decorating a room, then chances are you are overlooking perhaps the single largest decorating opportunity there is—the wall. Creating stylish walls is a key element to being able to have a properly decorated home. Here's some simple guidelines you can use to help you get started on creating some stylish walls.
Dealing with a Narrow Hallway
For most people one of the most difficult areas of the home to decorate properly is a long, narrow hallway. Dealing with a narrow hallway doesn't need to be as difficult as people make it out to be. All you need to do is follow these guidelines and you will have a narrow hallway that you will just love.
Dealing with an Ugly View
Dealing with an ugly view from your window is something that no one really likes to do. Luckily, there are a few things that you can do which will make it a little easier.
Decorating in the Craftsman Style
Are you looking to make your home stand out? Having trouble picking the style that suits you best? If you answered yes, then take a look at the Craftsman style of decorating. This simplistic yet beautiful decorating style is one that can work in just about any home.
Decorating the Laundry Room
For some strange reason there is one part of the home that is traditionally overlooked when decorating. That room is the laundry room. Decorating the laundry room is something that won't take very long to do, as long as you follow a few simple guidelines.
Decorating Your Bedroom
The style of your bedroom reflects your personality and character. By following a few basic rules you can create your own perfect getaway.
Design on a Tight Budget
Redesigning a room is often a daunting and frightening task. By using these ideas it can be a fun and fantastic affair. Simply get in touch with your inner child.
Designer Bedroom Furniture
Decorating a bedroom means you'll have to decide what furniture you want for the room. Think about purchasing designer bedroom furniture to get the perfect look for your room.
Designer Lighting
Adding a designer look to your home can add style and sophistication to your decor. Use designer lighting to get just the right look and the perfect amount of light.
Entertainment Centers
Do you want an organized look in your family room? Try an entertainment center to create space for your television as well as accessories.
Feng Shui Rules
The way a room looks and feels can really have an impact on your mood. The idea behind Feng Shui is to find a balance with the elements in your decorating, and to give you a sense of peace and good fortune.
Finding a Decorator
An interior decorator can be a huge help to anyone who wants their home to be perfect. However, how do you find a decorator, particularly a good one? While it may seem tricky, finding a good interior decorator is actually something that anyone can do. Here's how.
Fixing a Damaged Ceramic Vase
Learning to fix a damaged ceramic vase can help you to avoid panicking. With a few tools and a little patience you can become a pro.
French Window Treatments
Window treatments are both decorative and functional. When choosing treatments for your French doors, remember that you will need to find particular kinds of blinds and curtains for your setup.
Garden Bedroom
Are you interested in a beautiful, natural decorating style? Try a garden bedroom theme to get a fresh look.
Girls Bedroom Furniture
Finding the perfect furniture for a girl's room can be simple. Come up with a theme with the help of her imagination and go from there.
Glass Lampshades
Everything you display in your home can impact the overall look of your interior, including lamps. Using glass lampshades in your decorating can add a sophisticated and beautiful look.
Guidelines for Arranging a Room
Have you ever wanted to have a room that looks like it stepped out of an architectural magazine? There are guidelines for arranging a room so you can get exactly that. Best of all, these guidelines are things that anyone can start to do with minimal effort.
Hanging Drapery Hardware
Hanging drapery is not as difficult of a task as many people would believe. Here is a simple step by step checklist for how you can have the best looking windows you have ever had.
Hanging Lamps
A hanging lamp is a great way to add overhead light to an area. These lamps give a unique and beautiful look to a room.
Hanging New Blinds
New blinds can pose exciting new possibilities for the aesthetic appeal of a room. Learning to properly hang new blinds will aid you in creating a polished, professional look.
Hanging Pictures with Style
Everyone can hang pictures on their wall, but not everyone can do it with style. Surprisingly hanging pictures with style is actually really easy. In order to do it properly, all you need to do is follow a few simple guidelines. Once you begin to do that, you will be amazed at the results.
Home Decorating Ideas
One of the largest problems that people have when doing home decorating is that they tend to not really know what they want. Home decorating ideas are just that—ideas. Here are a few ideas about themes that can help you narrow down exactly what you are looking for.
Home Interior Decorating
There are many misconceptions about home interior decorating, in fact there are almost as many misconceptions as there are people in the world. In reality, there are some simple guidelines that anyone can follow, and while doing so be able to create exactly the look they are looking for.
Home Theater Design
You don't need to have a degree in home theater design in order to design your own home theater. As long as you understand the importance of a few factors, you are going to be able to achieve more than you would believe.
Ideas for Window Treatments
Window treatments can add a lot of personality to a room. Consider your needs when deciding which type is best for your home.
Identifying a Room's Focal Point
While many people may think that they know how to decorate a room, they couldn't be more wrong. Being able to successfully identify a room's focal point can often be the key to creating a truly unique decorating scheme. Here's why.
Installing a Decorative Border
Are you having some hardwood floors installed? If so, then you may want to consider installing a decorative border. A simple decorative border is a great, and easy, way to spruce up the entire look of a wood floor. Best of all, it's not that hard to install one yourself.
Installing Crown Molding
Crown molding can be a wonderful architectural accent piece for any room. But what do you do if you don't have any, and you want some? The simple answer is to install it. Installing crown molding is a fairly easy task that anyone can do. Here's how.
Interior Decorating Ideas
You don't need to decide upon a preset notion of what a room should look like. Use your creativity to design a room and, above all, consider affordability, flexibility, and practicability of the furnishings and accessories that you choose.
Italian Lighting
Each room needs the right kind of lighting. Try Italian lighting options to add to the beauty of an area.
Kids Bedroom Furniture
Picking out kids' furniture can be a fun task. You can go along with a theme or look for furnishings in colors and shades that your child likes.
Kitchen Cabinet Design
The cabinets in your kitchen should meet your specific needs. Choose the right cabinets for ultimate efficiency and storage space.
Lighting a Room Properly
For some reason, most people do not stop to think about the lighting in their rooms. Lighting a room properly can make all the difference in a room. In fact, you will be amazed at just how large of an impact the proper lighting will have on your rooms. Just keep in mind a few guidelines to ensure that you do it the right way.
Lighting Accessories
Do the lights in your home need a new look? Adding lighting accessories can help give them a fresh appearance.
Makeover Your Furniture
Do you want to make a change to a room but don't want to start over with new furniture? Try making over what you already own for a fresh look.
Making Your Own Seat Covers
If you are tired of the chairs in your home, don't assume you need to buy new ones. Instead, consider taking on the project of making your own seat covers.
Making Your Own Slip Covers
If you are looking for a change in decorating, consider making slip covers for your furniture. This will allow you to get a new look without buying a whole new furniture set.
Mirrors Make a Room Look Larger
Trick your eye into thinking that a small room is large by using mirrors to enhance the lighting and decor. One of the easiest and fastest ways to make a room appear larger with a mirror is to place it in such a way that it reflects another—larger—room. That way, when you enter the small room, your eye is drawn to the mirror reflecting the larger space.
Oak Bedroom Furniture
Are you searching for high quality, beautiful bedroom furniture? Oak is a great material that will look great in a bedroom.
Panel Window Treatments
Window treatments are an important part of decorating and are functional at the same time. Choosing panel window treatments allows you to get a classy look in a room and they easily allow you to adjust lighting.
Picture Hanging Do's and Don'ts
Just about everyone thinks that they know how to hang a picture, unfortunately most people do it wrong. If you really want to get the most out of your pictures, then you need to learn the picture hanging do's and don'ts.
Replacing Cabinet Hardware
Now that you have the perfect cabinets, it's time to install that nasty looking hardware they came with. Replacing cabinet hardware is something that anyone can do, as long as they have a few simple tools and a little time. In fact even though this project will only take ten minutes to complete, it is a perfect task for the weekend.
Room Design
What look and feel do you want a certain room to have? This depends on the room design, and you can create the perfect effect by paying attention to a few things.
Selecting Room Colors
When you decide paint colors for rooms of your home, consider objects which will stay in the room, such as furniture, curtains, and accent pieces. Incorporate colors from those stationary objects when choosing paint colors, and if you use neutrals, select bold furniture and accent colors to make a statement.
Silk Lampshades
Do you want to add a beautiful touch to a room's décor? Try a silk lamphade for an instantly classy look.
Solar Lights for Exterior Accents
If you've been contemplating accenting your yard with lighting, you may want to consider using solar lighting. Easy to install, environmentally friendly, energy efficient, and inexpensive, solar lights for exterior accents are the best choice for your outdoor accent lighting needs.
Southwest Home Decorating
You don't have to be from the American Southwest to enjoy the look that originates from that region of the world. That being said, unless you have an appreciation for that part of the world, then you are not really going to understand the appeal. Here are some simple guidelines to help you make the spirit of the southwest come alive in your home.
Space-Saving Bathroom Storage Ideas
Bathrooms can quickly become cluttered with towels, make-up, extra toilet paper and soap, but don't worry by using these tips you can easily make space for all of it. So if you are looking for some great space-saving bathroom storage ideas, you are in luck.
Space-Saving Kitchen Storage Ideas
Your kitchen doesn't necessarily need more drawers or cupboards in order to fit all your appliances into it. There are many different ways to utilize more storage space in your kitchen that you would probably never even think of. After all, who couldn't use a few more space-saving kitchen storage ideas?
Sponge Painting Your Furniture
Your furniture can get boring after a while, and you might be looking for a change. Why not try a little do-it-yourself project and sponge paint your old furniture pieces for a new look?
Sponge Painting Your Walls
Adding a unique look to your home doesn't need to be difficult. Try adding a textured look to your walls by applying paint with a sponge.
Stylish Homemade Shades
Want to add some style to your home decor? Think about making your own window shades with fabric you choose yourself.
Tricks for Making a Narrow Hallway Wider
Even if you have a narrow hallway, there is nothing that says you have to live with it, or suffer through the lack of space. There are a few tricks for making a narrow hallway wider that will help you deal with the situation. Just use any one of these clever little tricks, and you will have a hallway that you can be proud of.
Tricks for Working with Framed Artwork
Artwork is a valued addition to any home. Unfortunately though, sometimes we don't have the patience, money, or space that is required for their proper display. Use these simple tips to get the maximum bang from your artistic budget.
Using Aromatherapy in Home Decor
If you use candles, tart burners, infused oils, or fresh baked goods to make your home smell good, whether you realize it or not, you are using aromatherapy in your home décor. You are, in essence, manipulating your environment with distinct smells and aromas in order to alter your mood and elevate your emotions.
Using Color for Accent
Want to add depth and interest to a room in your home? Add accent colors to make any area more exciting. Bys using color for accent in your home, you can add a depth and vibrancy to any room that it would normally lack.
Using Color to Enhance a Room's Mood
Whether you want to lighten your mood or find a way to calm down, the colors you use in your home can help create a certain atmosphere that may affect how you feel.
Using Mirrors to Decorate
If you are looking for inexpensive, effective decorating tips, this article is for you. Learn to use mirrors as a great decorating tool.
Using Stencils to Decorate
Are you looking for an easy and inexpensive way to decorate your home? Using stencils on walls or other surfaces in your home can add a unique look to any room.
Victorian Lamps
Lamps can help you control the lighting in a room. Choosing Victorian lamps to decorate an area will add class and sophistication as well as extra light.
What is Wall Glazing?
If you are interested in creating a truly unique and memorable look or effect on the walls of your house, then you really need to consider wall glazing. But what is wall glazing? Keep reading to find out.
What to Look for when Hiring an Interior Designer
Working with an interior designer to decorate your home can be a great help, as long as you have a good one. In order to do that though, you really need to know how to pick a designer that will fit your needs. Here is what to look for when hiring an interior designer.
Wood Stain Colors
Anyone who has ever had a wooden deck, patio, or even lawn furniture knows just how important choosing the proper wood stain can be. But what many people overlook or don't pay a whole lot of attention to are wood stain colors. If you are looking to create the perfect look, then choosing the best possible color of wood stain is not something that you can afford to overlook.