Simple Projects
Most homes, regardless of their age or how long you have lived there, will need some minor repairs or additions to make them "yours." Fortunately, many of these types of projects are easy if you have a little know-how and a sense of adventure.
If you have ever wanted an extra phone jack, a sandbox or play area, or some window planters, the tips in this section can help you add these, and more, to your home. You'll also find information about removing popcorn ceiling texture, replacing a light switch, and repairing your garage door.
Tips, Tricks, and Answers
The following articles are available for the 'Simple Projects' topic. Click the article''s title (shown in bold) to see the associated article.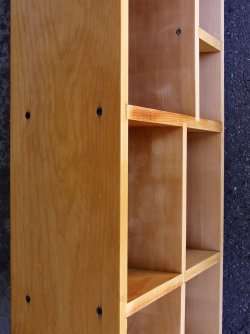 Adding an Extra Phone Jack
Adding a phone jack does not have to be a stressful or expensive process. In fact, it is something that any beginner electrician can do, with a little guidance. Here's how.
Adding Wainscoting
Have you ever seen a wall that has a beautiful wood finish along the bottom half? If you have, then you have seen wainscoting. If you are looking to add this gorgeous effect to your home, then you are in luck. Adding wainscoting is actually pretty easy. Here's how.
Basics of Designing a Tree House
Just about every child has dreamed of their very own tree house at some point. Help make your child's dream a reality by designing a tree house yourself. There is actually very little to do when designing a tree house, about the only thing that limits you is your own imagination.
Build a Closet
Believe it or not, one of the simplest home improvement projects a person can do is to build a closet. All you need is to follow the proper steps. If you need a little extra space around the home or are simply looking for an easy project to begin practicing with, then this is the one for you.
Build Your Own Bunk Beds
If you are faced with a growing family, and limited space, then you may want to consider using bunk beds to help save some room. Instead of spending an arm and a leg to have someone else make the beds for you, why not make your own? Build your own bunk beds using this simple method.
Building a Barbecue
While you can always go out and buy a barbecue, why not take the time to make your own? By building a barbecue, you can create the exact type of barbecue that you want. In fact, it can even let you set the entire tone for your back yard. Follow these instructions to build a basic brick barbecue in your back yard.
Building a Bookcase
If you love to read, are looking for a little more storage or simply want a little practice at carpentry, then why not try building a bookcase? Not only is it a great way to gain a little more experience in the basics of carpentry, who says that you can ever really have too many bookcases? Here's what you do.
Building a Dog Run
If you have a dog, then you no doubt know just how much they like to run around. Instead of having them run around your home, why not look into building a dog run? It's not really that difficult, particularly if you follow these guidelines.
Building a Doghouse
If you have a dog then chances are pretty good you will want to make your furry little friend a home of their own. Building a dog house is an amazingly simple project that any do-it-yourself enthusiast can accomplish. Depending on your skill level, this project will only take a single day to finish.
Building a Gaming Table
A Game table can basically be used for any type of game. Whether it be a game as small as Chess and Checkers, to something as large as an Axis & Allies, or Warhammer 40,000 the premise is the same. A gaming table is supposed to hold everything that you will need to play that game. Here's what you need to do so you can begin building a gaming table that you can use.
Building a Home Playground
Anyone with kids and a little extra space in their yard knows the dream of having a home playground. These days, as long as you have a little time, and a lot of energy, you can begin building a home playground. Here's how.
Building a Jungle Gym
Building a jungle gym can be an easy project as long as you have all your bases covered. Here are some simple guidelines that can help you be able to make your home playground just that little bit better.
Building a Kids Bed
Have you ever noticed how a kids bed never really seems to be up to all the abuse those darn kids can put it through? Well, instead of throwing away good money after bad, why not make something that will last? Here is everything you need to do when building a kids bed.
Building a Playscape
Building a playscape can be just as easy as building a playground, all that you need to do is think a little more about the design you want. With that in mind, here are a few simple guidelines that can help you not only have a place your children can play in, but in fact a dream come true.
Building a Sandbox
A sandbox is a perennial favorite among children, so why not give one to a child that you know. Building a sandbox is easy, here's how.
Building a Simple Closet
Whether your living space is limited or you simply enjoy shopping, knowing how to build a simple closet can be an essential skill. Your friends and family will thank you for taking the time to learn this new skill!
Building a Slide
There are few things in the world that seem to bring joy to children as much as a playground and one of the perennial favorites is the slide. Well, building a slide in your own backyard is not as difficult or expensive as one might think. Here is how you build your own slide, and start working towards your own backyard playground.
Building a Swing Set
If you have ever thought of giving your children a home playground, then you are going to need to give them a swing set as well. After all, no playground is complete without a swing set. Luckily, building a swing set is rather easy and inexpensive. Here's how.
Building a Train Table
One of the most beloved of all hobbies is the model train. There are all kinds of model train table systems out there, but they tend to share a common problem, they can be pretty expensive. Here is how you go about building a train table for your children, and not break the bank when doing it.
Building a Tree House
It can pretty much be taken as a given that every child would love to have a tree house at some point in their life. Building a tree house is a goal that any homeowner can make a reality for their child. All they have to do is follow these guidelines.
Building a Workbench
If you are looking too really create a personalized home work space, why not make your own work bench? By building a workbench that is designed by you, for you, you will be able to have a space that is truly your own. Here is how you can build a work bench that you will simply love.
Building Bunk Beds for Children
Using bunk beds is a great way to help create more space in areas that are limited. Instead of spending loads of money on them though, how about building bunk beds for your children instead? Here's how.
Building TV Stands
TV stands are designed to be wonderful pieces of furniture that hold and support our televisions while we watch them. As such, it makes perfect sense that you may want to either strengthen an existing TV stand, or to build one yourself. Which ever it is that you want to do, here's how you do it.
Building Window Planters
Building window planters are a wonderful, and relatively inexpensive, way to add curb appeal to any home. Here is a step by step guide to building window planters.
Cabinet, Counters, and Storage Tool Kit
Some of the more important parts of the home are things like cabinets, counters and other types of storage spaces. As such, there will be times when you need to do some little repairs, or even a complete overhaul of these items. Before you begin doing that though, make sure that you have a complete cabinet, counters, and storage tool kit ready to go.
Covering Exposed Ductwork
One of the problems with having central air is that you have to ensure the duct work is covered. When this doesn't happen, the basement of your home can quickly look as if it is an industrial complex. Covering exposed ductwork, though physically strenuous, is something that anyone can do with the proper preparation.
Designing a Deck
A deck can be a great addition to any home, as long as it is designed properly. You don't need to spend a lot of money to get the perfect deck. Rather, all you need to do is follow a few simple guidelines.
Finding Studs in Walls
Sometimes it's not easy to locate studs since they are mostly concealed behind plaster and other parts of the wall. While it can be easier to find studs behind drywall or plaster, you usually can find studs behind any type of wall if you follow these tips.
Fixing Squeaky Stairs
Knowing the parts of a staircase will help if you ever need to speak with a repairman about fixing them. This article identifies the main parts of a staircase, and how you can fix simple squeaks and creaky stairs.
Garage Door Opener
Next to the refrigerator, your garage door opener is probably going to be one of the most often used home appliances. If you don't already have one, or if the one that you have is currently not working, here is a step by step method for installation.
Garage Door Repair
Garage door repairs are a simple and easy task that anyone can accomplish, as long as you know what you are looking for. Here is what you need to look for then next time you think that you are in need of some garage door repair work.
Garage Storage Systems
Garage storage systems are the best possible way to help keep your garage from becoming a store room only. Here are some of the best garage storage system styles currently available to help you maintain your garage as your car's home.
General Contractor Contract Tips
No matter how simple, or complex the home improvement project is, there will come a time when you will want to hire a general contractor. The main purpose behind a general contractor is to make your project go a little smoother. In order to have that happen though, it always helps to have a few general contractor contract tips in mind prior to signing on the dotted line.
Home Remodeling
Home remodeling is a unique phenomenon where it seems that your wildest dreams are coming true at the same time as your worst nightmares are. Luckily there are some simple guidelines that can help you minimize the nightmares. Here they are.
Installing a Brick Pathway
It is never really too late nor too early to add a brick pathway to your home. Installing a brick pathway, while fairly labor intensive, is a project that even the most novice of home improvement enthusiasts can do. All you really need is to follow these guidelines, and have a little bit of confidence in your abilities.
Installing a Ceiling Fan
Installing a ceiling fan, though it involves electrical work, is something that any homeowner can do. All you really need to do is be a tad careful and make sure you have a rough idea of what to do.
Installing a Doggie Door
If you have a pet, then chances are pretty good you get a little tired of constantly taking your fuzzy friend outside all the time. One way that you can get over this frustration is by installing a doggie door. You would be surprised at how easy it is to get these installed yourself.
Installing a Garage Door
Installing a garage door is a perfect weekend project that even the most inexperienced of home improvement enthusiasts can get into. To properly install a garage door all you need is three things. Those three things are help, time, and the directions. We can provide the directions, the rest is up to you.
Installing a Kitchen Island
A Kitchen island can be one of the most helpful additions that you put into your kitchen. By having a kitchen island you can give yourself more counter space to work with, and more storage space as well. Luckily installing a kitchen island is a fairly simple building project that just about anyone can accomplish.
Installing a Wall-Hung Sink
If you don't like the current sink in your bathroom, you can always go with a traditional favorite, the wall-hung sink. Installing a wall-hung sink isn't particularly difficult, though it is a project that can take up to six hours to complete. Luckily it is a project that is simple enough just about anyone can accomplish.
Installing Kitchen Cabinets
After a while, everyone wants to change the look of their kitchen. This typically entails the need to do some cabinetry work. Whether you are totally replacing your cabinets, repainting them or refinishing them the time is going to come where you are going to have to install kitchen cabinets. Here is how you can do that yourself without having to pay an arm and a leg for a professional carpenter to do it on your behalf.
Installing Molding for Interior Doors
When you install a door, or replace an existing door, your job isn't really finished until you have installed the molding. Installing molding for interior doors is actually pretty easy, and will only take you about an hour to do. All you need to do is follow these simple instructions.
Installing Soffits
Soffits are a helpful feature of home architecture that you can use to help lower your heating and cooling costs. But what do you do if your home doesn't have any soffits already installed? The answer is rather simple: install your own.
Installing Wallboard
Learning how to install wallboard can be a huge advantage when remodeling or renovating your home. Installing wallboard, though a tiring job, is something that anyone can do as long as they follow a few simple guidelines.
Insulating an Attic
No matter the type of weather that you may be faced with, if you don't have the proper insulation in your attic you can easily find that your heating and energy bills going sky high. Insulating your attic correctly is one of the best possible ways to ensure your home is as energy efficient as possible.
Insulating Basements
Considering that many homes have their heating and air conditioning units in the basement, it only makes sense that these parts of the homes be insulated as well. Insulating basements will help reduce your overall heating and cooling bill, while also making sure that your basement is actually finished. Better yet, you should be able to get this all done in a single weekend.
Kitchen Makeover
Does your kitchen seem old and outdated? Give this area a makeover to get a fresh look.
Lowering Costs on Projects
If there is any drawback to doing a home improvement project, then it has got to be the cost. Whether you are doing the work yourself, or hiring someone to do it for you, the cost can quickly and easily spiral out of control. That is, if you don't follow this advice on lowering costs on projects.
Make Your Own Movie Screen
Want to watch some movies on a big screen, but don't want to pay for the ticket at your local theater? Well, one way that you can do that is to make your own movie screen. Here is how you can make your own home theater a true cinematic experience.
Making a Window Opening
Does your wall look a little bare, and you would like to spruce it up a bit? Why not bring the great outdoors inside, by installing a new window? In order to install a new window though, you will need to first make an opening for the window to go into. Making a window opening isn't that difficult to do, as long as you follow these simple directions.
Planning a Deck
Decks are an attractive addition to any home. If you are in the process of planning a deck for your home, here are some helpful guidelines.
Planning a Patio
Patio's are often among the most used portions of any home during the warmer months. Whether you currently have a patio that is badly in need of updating, or you are planning a patio for future use, you should use the same process to choose your final design, here's how.
Reducing Interior Noise
If you happen to have an older home, or a home that has lots of hard surfaces, then you probably know what it is like to live in an echo chamber. Luckily reducing interior noise isn't all that difficult if you take the proper steps.
Remodeling Bathrooms
Is your bathroom looking run-down and out of date? Remodeling can allow you to update the room for a great new look.
Removing a Wall
Sometimes the only way to improve something, is to destroy it first. One example of this is when you need to remove a wall so that you can make a room bigger. While removing a wall isn't that difficult, it should be done with extreme care. Follow these simple guidelines to ensure that you do the job right, and don't make more work for yourself.
Removing Ceramic Wall Tiles
Have you ever wanted to replace some old tile walls, but weren't sure of how to do so? Well, before you can actually begin replacing these tiles, you need to first remove them. Removing ceramic wall tiles is something that anyone can do, and can give you a great start on learning to properly do some home demolition.
Removing Popcorn Ceiling Texture
For years popcorn ceiling texturing has been a popular choice among homeowners. However, just because it used to be popular, doesn't mean that you have to be stuck with it. Removing popcorn ceiling texture is something that is surprisingly easy, and in fact is a project that you can do in a single weekend. Take a look.
Repairing Dented Wood
If you have a wood floor, wood furniture, or even just a simple wooden surface somewhere in your home, then chances are it is dented in some way. Learning the proper way of repairing dented wood is a great way to extend the life of that item. Just remember to keep your expectations realistic.
Replacing a Light Switch
Replacing a light switch is one of the easiest of home electrical repairs that can be done Here is how you can get professional results and save some money by not having to call in a professional to get the job done.
Simple Door Repairs
One of the more common problem spots in any home is the doors. For some reason, doors often seem to have more problems than just about any other part of the home. Learning a few simple door repairs can not only make your home a little nicer, it can make your day just a tad more enjoyable as well.
Touching Up Cabinets
Over time, even the nicest of cabinets will need a little touch up work. Why spend the time and money to completely replace your cabinets, when all you really need to do is apply a little touch here and there. Touching up cabinets can be remarkably easy, if you know what to do.
Troubleshooting a Garage Door
Troubleshooting a garage door is the first step in fixing a problematic garage door. Since this is something that is not particularly difficult to do, it is a great project that you can accomplish on a free weekend. Keep reading to see how you do it the right way.
Understanding Wallboard Finishing Levels
If you are thinking of having any type of wall work done in your home, then it is a good idea to understand the basics. Part of understanding the basics is knowing what the different finishing levels are for wallboard. Understanding wall board finishing levels isn't all that difficult, and can actually help you achieve the exact look that you want for your home.
What is Cold Weather Caulking?
As I was wandering through a home improvement store the other day, I cam across a product that I had never heard of before, and when I saw it I just had to ask myself just what is cold weather caulking? Here is what I found out.
When Do You Need a Building Permit?
Building permits are an often overlooked part of home improvement projects. Not getting them when you need to can quite easily make your final costs skyrocket, through fines and added expenses. Being able to understand building permits and when you need them can be an extremely helpful tool for anyone. So the next time you ask yourself "Building permits, when do you need them," look here.