Exterior
Your home's exterior is the first impression people have when they visit. In addition to appearance, maintaining the exterior of your home can help protect the interior of your investment and extend its life.
The tips in this section can help you protect your home and make it look great at the same time. From preparing your water system for the winter to planning an outside living area, you'll find the information you need to make your job easier.
Tips, Tricks, and Answers
The following articles are available for the 'Exterior' topic. Click the article''s title (shown in bold) to see the associated article.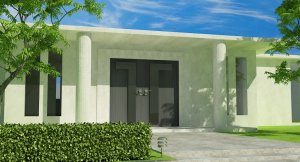 Chimney Repair
Chimney repair doesn't necessarily need to be anything big or drawn out. In fact, often times all it may mean is that there are a few cracks that need to be taken care of. In situations like this you can always do the work yourself, instead of hiring someone to do it for you.
Create Your Own English Garden
If you have ever seen a movie that was set in England, then chances are you have seen at least the idea of an English garden. These gardens can be an extremely attractive addition to just about any home. That is, they can be, if you know the trick to designing an English garden.
Decorate Your Deck
Decks can be a wonderful addition to any landscaping scheme, as long as they are decorated properly. Basically, decorating a deck is just like decorating any other room in your home. Just keep in mind these few guidelines, and you will do a great job.
Designing a Deck
A deck can be a great addition to any home, as long as it is designed properly. You don't need to spend a lot of money to get the perfect deck. Rather, all you need to do is follow a few simple guidelines.
Designing an Outdoor Living Space
Having an outdoor living space is becoming more and more a necessity for today's homeowners. It seems like no home is really complete until there is some kind of an outdoor living space attached to that home. Designing that space can be a little overwhelming for some though. Here's what you need to do though if you would like to have one yourself.
Exterior Lighting
The next time you have a summertime backyard party, consider hanging string lighting to enhance the festivities. Exterior lighting has evolved from the cheesy string lights of the past, you can find a wide range of string lighting from the festive and fun, to the sophisticated and classy.
Installing a Brick Pathway
It is never really too late nor too early to add a brick pathway to your home. Installing a brick pathway, while fairly labor intensive, is a project that even the most novice of home improvement enthusiasts can do. All you really need is to follow these guidelines, and have a little bit of confidence in your abilities.
Installing a Lamppost in Your Yard
Installing a lamppost in your yard can be a great idea for all kinds of reasons. While you can always hire someone to do the work for you, why not do it yourself? Just follow these directions to ensure you do the job right.
Installing Gutter Guards
Gutter guards can be a very effective and helpful tool that will not only save your gutters from damage, but also help prevent needing too much cleaning. But before you can begin to enjoy their benefits, you will need to install them. Good thing that installing gutter guards isn't all that difficult.
Organizing Your Garden Shed
Whether you are a professional gardener or simply an enthusiastic amateur, if you have a yard then you probably have something that you use as a garden shed. Garden sheds, and the tools you keep in them, are an investment. Take a little time to protect that investment by organizing your garden shed.
Outdoor Lights
Outdoor lights are a necessity around the home for many different reasons. Some of these reasons include being able to entertain friends and family outside even at night, as well as increasing the overall security of your home. Here is everything you need to know to pick the best possible outdoor lights for your home, and to get them installed properly.
Pouring a New Sidewalk
Over time, even the best laid sidewalks become a little damaged and need some repair. Unfortunately, there are going to be times when you cannot simply repair the cracks or craters in the sidewalk. Rather, you may find yourself pouring a new sidewalk. Good thing it's not that difficult a job.
Preparing Your Home for Spring Weather
Whenever the seasons roll around it's time to do a little bit of work around your home, and springtime is no different. While preparing your home for spring weather could potentially require you to get a bit dirty, it is something that shouldn't take a whole lot of time.
Preparing Your Swamp Cooler for Cold Weather
If you take the necessary time to prepare your swamp cooler for cold weather, it will be ready for your use in the hot months ahead. A few hours invested in the fall will save you time, energy, and money in the spring. Follow these steps for preparing your swamp cooler for winter.
Preventing Dry Rot
A rather common problem that faces many homes is that of dry rot. This insidious natural process can easily reduce the beauty of your home, and even cause some rather severe damage to your home. While there is little that you can do in preventing dry rot, there is quite a bit that you can do to stop it once it shows up.
Removing Stumps
Once you cut down a tree you still have a small job to do, and that is removing the stump. Surprisingly, removing stumps is perhaps the single most difficult part of getting rid of an old tree. Just because it may be difficult doesn't mean that you can't get the job done.
Repairing Sidewalks
A cracked sidewalk can make your entire home look old, and careworn. Luckily, repairing sidewalks is a relatively easy task, and one that is a perfect weekend project. All you need to do is follow these simple directions and you will have your sidewalk repaired in no time.
Repairing Vinyl Siding
Vinyl siding is a great option for homes because it is usually more resilient, and lasts longer, than other more traditional types of siding. However, just because it is more resilient doesn't mean that it won't get damaged. Repairing vinyl siding is a task that any homeowner can do, and it is something that can be done in a single day.
Repairing Wood Siding
One of the oldest, and therefore fairly common, types of home siding in the United States is wood siding. No matter how well you maintain your wood siding, eventually it will need to be repaired. Good thing then that repairing wood siding is a fairly straight forward project. All you really need to do is follow these instructions, and have enough time to finish the project.
Winterizing Exterior Water Faucets
While you're putting your garden hoses away for winter, take the time to drain and turn off your outside water faucets, too. While you can easily replace a burst garden hose, the same cannot be said for replacing a burst water pipe. Follow these steps for winterizing your exterior water faucets.
Winterizing Your Sprinklers
Removing all of the water from your sprinkling system might sound like a daunting task, but can be quite easy. Depending upon where you live, you might not need to remove all of the water, but it may be critical that you do. Follow these steps for winterizing your sprinklers and preventing damage from freezing weather.