Lamps
There are a number of options to light your home. Lamps are a great way to add extra light in an area without rewiring the electrical system in your house. They also provide a way to manipulate the mood of a room by adjusting the amount of light it puts out.
This section of tips can help you work with lamps. Like most things, sections of these electrical appliances can break. You'll find the information here that you need to repair a lampshade.
Tips, Tricks, and Answers
The following articles are available for the 'Lamps' topic. Click the article''s title (shown in bold) to see the associated article.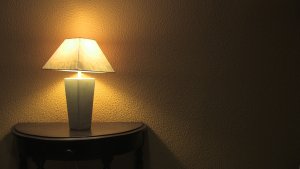 Glass Lampshades
Everything you display in your home can impact the overall look of your interior, including lamps. Using glass lampshades in your decorating can add a sophisticated and beautiful look.
Hanging Lamps
A hanging lamp is a great way to add overhead light to an area. These lamps give a unique and beautiful look to a room.
Identifying CFL Bulbs
CFLs (or compact fluorescent light bulbs) have become increasingly popular over recent years. In fact, they have become some popular, those who have recently moved into a new home, you may have them and not even realize it. How do you go about identifying CFL bulbs if you didn't buy them and install them yourself? Take a look at this list to figure out how.
Installing Track Lighting
Track lighting is a wonderful lighting option that you can have in your home. Not only does it provide much needed illumination for your home, it can also help accent that beautiful artwork you want to show off. But, what do you do if you don't already have some installed? Installing track lighting is a project that you can do no matter how inexperienced of a home improvement enthusiast you are. Take a look.
Italian Lighting
Each room needs the right kind of lighting. Try Italian lighting options to add to the beauty of an area.
Repairing a Lampshade
Lamps have a way of creating mood lighting or simply adding extra light to a particularly dark room. If your lampshade has broken, follow a few basic steps and it will be as good as new.
Replacement Lamps
The lighting in your home might not be the first thing you notice, but these fixtures still have an impact on the look and feel of your home. If your lamps are beginning to look damaged or dated, think about a replacement.
Silk Lampshades
Do you want to add a beautiful touch to a room's décor? Try a silk lamphade for an instantly classy look.
Victorian Lamps
Lamps can help you control the lighting in a room. Choosing Victorian lamps to decorate an area will add class and sophistication as well as extra light.