Locks
One of the easiest ways to keep your home safe is to install locks on all of your doors and windows. They are almost always a part of the door handle and help prevent unwanted entry into your home.
Most doors have a door handle with a lock and a dead bolt that provides extra security. This type of door hardware doesn't have to be hard to install. The tips in this section can help you put in a deadbolt and increase your home's security.
Tips, Tricks, and Answers
The following articles are available for the 'Locks' topic. Click the article''s title (shown in bold) to see the associated article.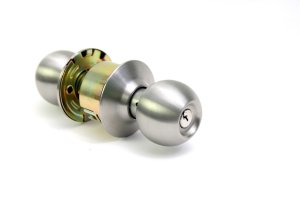 Installing a Deadbolt
While installing a deadbolt lock yourself can be simple, the project does require a few tools and a little know-how. Read the directions on your deadbolt kit and use the recommended tools. Deadbolt locks not only make your home more secure, you can buy them in an array of finishes to match your doorknob and decor.
Installing a Safe in Your Home
Installing a safe in your home is a great way that you can go about protecting valuables and important paperwork. The trick is to decide how you are going to do it. If you follow these instructions, you should have no problem in getting a new safe for your home.
Replacing a Deadbolt
Although replacing a deadbolt is generally easier than installing one, some models may be slightly different than your old one, and a bit more difficult to handle. The steps to replace a deadbolt are the same for removing one—just in reverse. Remember the steps you take to remove your deadbolt, and replacing the new one will be a snap.