Bathroom
Bathrooms are an often over-looked room in the house. Spending some extra attention in this area can improve the value in your home and provide a nice place to prep in the morning or unwind after a long day.
The main plumbing system in your house is in the bathrooms. This section of tips can help you solve some of more common plumbing problems such as stopped toilets and slow-draining tubs. You'll also find tips for choosing a vanity and refinishing cabinets.
Tips, Tricks, and Answers
The following articles are available for the 'Bathroom' topic. Click the article''s title (shown in bold) to see the associated article.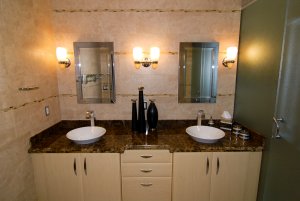 Adjusting the Water Level of a Toilet
Knowing the correct way for adjusting the water level of a toilet can help you in a surprising number of ways. Whether you have a running toilet, a leak, or a just looking to cut back on your water bills, fiddling with the water level in your toilet will have a huge impact.
Bathroom Shelving
Are you running out of places to put things in the bathroom? Add some shelving to give you room for organization.
Bathroom Vanities
Bathroom vanities are an important part of what sets the "tone" for your bathroom, and that impression can pass on to the rest of you home. Here are some great guidelines for choosing the best bathroom vanities that you can.
Cabinet and Countertop Toolkit
One of the most common areas to work on in the home is going to be the cabinets and countertops that you have. After all, these areas see a lot of hard use, and as such go through a lot of wear and tear. Before you begin working on any repairs, make sure that you have the proper cabinet and countertop toolkit prepared and ready to go.
Choosing Bathroom Light Fixtures
For some reason, the bathroom tends to be one of the most overlooked rooms in the home when it comes to interior decorating. If you are looking for a way to dramatically improve the look of your bathroom, then one of the simplest ways is install new bathroom light fixtures. Here are some great guidelines you can use when choosing those fixtures.
Conserving Water in the Bathroom
The bathroom is, without doubt, one of the areas in the home that most often wastes water. Learning the basics of conserving water in the bathroom can go a long way to help in a variety of ways. Not only will you end up using less water, but you can also end up lowering your water bill.
Installing a Handicap Shower
If you have a handicapped or elderly family member who lives with you then you no doubt know just how difficult shower time can be. Instead of worrying about the risks your loved one falling, why not do something about it? Installing a handicap shower isn't as hard as many would think.
Installing a Pop-Up Drain
If you haven't already got a pop-up drain in your bathroom sink, then you need to think about installing one. Installing a pop-up drain is a relatively easy plumbing project that even a novice can complete in less than an hour. All you need to do is follow these instructions.
Installing a Water Efficient Showerhead
Whether you are looking to save money on your water bill, or are more interested in becoming more efficient in your water usage, you may want to consider installing a water efficient showerhead. Not only is it a relatively easy task, it is one that just about any homeowner can accomplish. All you need to do is follow these simple directions.
Installing Bathroom Cabinets
Instead of hiring an expensive carpenter to install you bathroom cabinets, why not save some money and do it yourself. Installing bathroom cabinets can be a relatively quick and easy project. Here's how you do it.
Installing Low-Flow Showerheads
Compared with all of the other plumbing repairs that you might need to make within your home, replacing or installing a showerhead is one of the easiest chores you'll ever have to perform. If you find that you do need to replace your showerhead, think about replacing it with a low-flow model. Installing a low-flow showerhead is, by far, the most effective way to conserve water usage in your home. Using low-flow showerheads, compared to standard showerheads, can reduce your home water consumption as much as fifty percent and, thus, reduce your energy costs for heating the water—as much as fifty percent!
Laminate Countertops
If you are looking to get new countertops in your home, then chances are you have at least considered laminate countertops at one point or another. Before you make your final decisions about laminate countertops though, it might be helpful to learn a little more about them. Here is some great information that tells you what you need to know about this modern main stay in countertops.
Refinishing Bathroom Cabinets
The next time you are in the mood for remodeling your bathroom, look into refinishing instead. Refinishing bathroom cabinets is an inexpensive alternative that can breathe life into any bathroom, and save you some serious money at the same time. Here's how.
Remodeling Bathrooms
Is your bathroom looking run-down and out of date? Remodeling can allow you to update the room for a great new look.
Space-Saving Bathroom Storage Ideas
Bathrooms can quickly become cluttered with towels, make-up, extra toilet paper and soap, but don't worry by using these tips you can easily make space for all of it. So if you are looking for some great space-saving bathroom storage ideas, you are in luck.
Touching Up Cabinets
Over time, even the nicest of cabinets will need a little touch up work. Why spend the time and money to completely replace your cabinets, when all you really need to do is apply a little touch here and there. Touching up cabinets can be remarkably easy, if you know what to do.
Unclogging a Bathroom Sink Using a Plunger
Bathroom sinks seem to be susceptible to a large number of clogs or blockages. If you are interested in performing your own home plumbing tasks, use these simple steps to get your task accomplished.
Unclogging a Bathroom Sink Using a Snake
It can be annoying how often a bathroom sink can get clogged. Following these simple steps will enable you to handle this annoyingly recurring problem.
Unclogging a Bathroom Sink Using a Wet/Dry Vacuum
Wet/dry vacuums can be used for more than just cleaning up spills in the shop, kitchen or garage. Since they have gotten more powerful, you can now use them as oversized plungers that clean up after themselves. Here's how.
Unclogging a Bathroom Sink Using Chemical Cleaners
Unclogging a drain, such as in your bathroom, does not have to be as difficult as many people think it to be. You do not need to call a professional plumber, when you can perform all your own plumbing needs, and save yourself loads of money.
Unclogging a Toilet
Clogged toilets are, unfortunately, a fact of life. Learning to quickly unclog a toilet is an extremely useful skill.